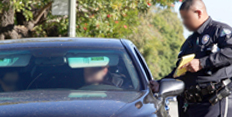 Do not just pay your ticket!  There may be much more at risk then just paying the fine.  The North Carolina driver's license points and your insurance points may cost you much more than you think.  There are alternatives and options no matter if you have a perfect driving record or a questionable record, but Attorney Fitzpatrick can identify the best way to proceed and help with your traffic matters.
A traffic ticket or traffic offense in Pitt County, North Carolina is not a simple matter and should be taken seriously.  Attorney Lisa Hennessy Fitzpatrick looks for ways to reduce and minimize points that affect your driving record and insurance premiums.  Attorney Fitzpatrick always works diligently to obtain the best possible outcome.
Attorney Lisa Hennessy Fitzpatrick has her office conveniently located at 605 Lynndale Court, Suite D, Greenville, North Carolina 27858. Attorney Fitzpatrick can help you with your traffic offense. Ms. Fitzpatrick handles traffic offenses in and around Pitt County including:
Speeding Tickets
Driving While License Revoked or Suspended (DWLR)
Driving After Consuming
Expired Registration Hit & Run
Running a Red Light Failure to Stop/Stop Sign Violation
Speeding in a school zone
Driving without Insurance
Careless and Reckless Driving
Moving Violations
Do I have to go to Court? For most cases Attorney Lisa Hennessy Fitzpatrick can appear on your behalf and you will not have to appear in Court. That means no time missed from work, no travel, and no wasted time sitting in Court waiting for your case to be heard.
Will my driver's license be suspended? Your driver's license will be suspended if you accumulate 12 or more points on your driving record within a three year period.
Will Traffic School help my case? Yes, in some cases and situations it is beneficial to attend and will reduce and/or remove points. It is approximately $60.00 and there are various locations that offer traffic school.
Larceny
Drinking Tickets
Assault
Trespass
Expungement
Domestic Violence
Contact our office today to set up your confidential consultation and to learn more about your rights and options!
Contact Us Today or call (252) 565-8562!